When I stumbled upon these adorable little sweet peppers at the store the other day, I knew that I just had to come up with a way to use them. Here is the recipe I came up with. This dish is very similar to something I ordered at a restaurant on the River Walk called Paesano's during our trip in March to San Antonio. This is certainly not health food, but is it ever delicious!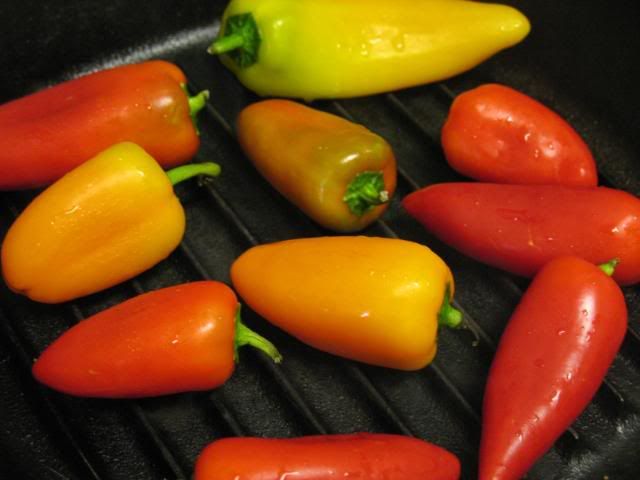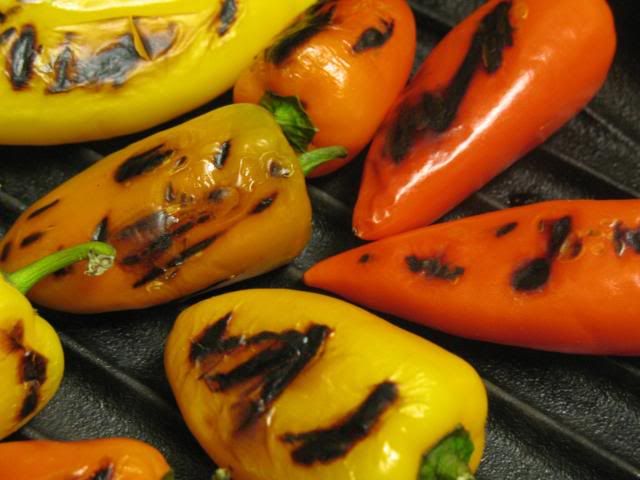 Penne with Roasted Sweet Peppers and Bacon
Assorted small sweet peppers, or 2 large red/yellow bell peppers
5 pieces thick-sliced peppered bacon (I prefer Petit Jean brand), chopped
2 cloves garlic, minced
2 shallots, chopped
1/3 cup dry white wine
1 cup cream
2 tsp. fresh thyme, minced
1/8 tsp. cayenne
Salt, to taste
1 lb. penne rigate, cooked according to package directions
Freshly grated Parmesan, for serving
To roast the peppers, heat a grill pan over high heat (or you can use your outdoor grill). Place the washed peppers on the grill pan, and grill until blistered and blackened on all sides. Remove peppers from grill pan and place in a resealable plastic bag, sealing tightly. (The trapped steam that accumulates as the peppers cool will make peeling the peppers much easier!) After about 10 minutes, remove peppers from the bag and, rinsing under cool water, gently peel away and discard the blistered skins and inner membranes of the peppers. Coarsely chop the roasted peppers and set aside.
In a large saute pan, brown bacon over medium-high heat until crisp and fat is rendered. Remove bacon to paper towels to drain. Drain off all but 1 tsp. of the drippings. Add the shallot and garlic and saute in the reserved drippings until shallot is translucent and garlic is fragrant, about 2 minutes. Add white wine, scraping up browned bits that have accumulated on the bottom of the pan. Simmer until wine is thick and bubbly, about 2 minutes. Add cream, stirring until smooth. Add thyme and cayenne, and season to taste with salt. Simmer until sauce is thickened and flavors are blended, about 5 minutes more. Toss cooked pasta with the sauce. Serve pasta sprinkled with the browned bacon and a generous amount of grated Parmesan.