This might go on record as my most ambitious month of scrapping ever. I am currently involved in two terrific online classes, both of which are stretching me creatively and giving me tons of inspiration!
Got Sketch 102
is the second sketch class to be offered by Valerie Salmon and Janna Wilson. I missed the first installment, but I am SO glad to have gotten in on the second. The sketches have been top-notch, and the community of fellow scrappers has been so friendly! I mentioned before that I am also taking the Sew Scrappy class at
Feeling Scrappy
, and like always, this class hasn't failed to impress! There have been so many fantastic tips, and the examples creative by the super design team over there have been marvelous.
I can't say enough how much I have grown as a scrapper by stepping outside my comfort zone and taking classes like these. I look back at my work from even 6 months ago, and I am floored by how much my style has evolved! I really feel like I'm starting to come into my own.
Here is one I wrapped up a couple of days ago with the inspiration I've garnered from both classes. The photos here (and the colors, too!) make my heart smile. It is so amazing how quickly the time goes by, isn't it? This paper is from Die Cuts with a View, and I have to say I just love this latest trend of offering one sheet of patterned paper with a sampling of strips of different patterns. Rarely do I ever use up an entire sheet of patterned paper, but I always wind up buying 2-3 sheets of the coordinates to give my layouts pizazz. With these 1-sheet border samplers, I get the same impact for a fraction of the cost (and waste!). Can't beat that with a stick. In addition to DCWV, I have seen lines from Reminisce and The Scenic Route that offer the same option. (I think it's Scenic Route that calls these sheets "Strip Tease" or something like that. Very clever. :) And such a great value!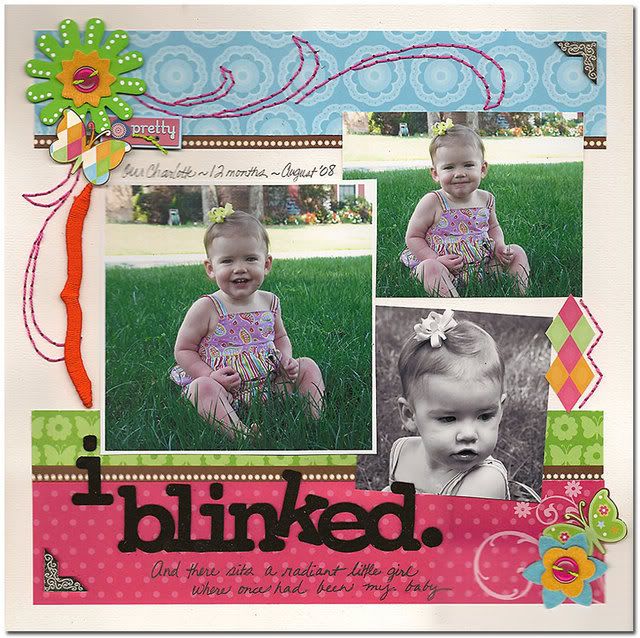 And a link to the product page: http://www.diecutswithaview.com/product_view.php?id=1531