The Reminisce paper lines have made regular appearances in my pages and other projects ever since my interest in paper crafting really took off about two years ago. I have always loved the varied textures, colors and patterns of their papers, and the fact that there are so many varied paper lines to tackle so many different scrapping subjects. When I saw earlier this month that they are hosting a contest to add to their design team, I got hard to work putting together some pages and projects using my favorite lines. I have been adding pages to the Reminisce blog gradually over the course of the last few weeks, but I also wanted to post them all here in one place. I have had so much fun with this, and seeing the caliber of submissions by all of the candidates has been downright inspiring!


Thank you, Reminisce, for this opportunity! I hope you enjoy perusing this consolidated collection of my submissions for your call!
And the individual projects, sorted by paper line:
Boys Gone Wild

"Blast Off!"

Project Notes: I did some the detailed hand-stitched stars and smoke trail from the rocket here using techniques I learned in the amazing Feeling Scrappy sewing class that just wrapped up.



Real Magic

"My Cutie Pies"

Project Notes: The felt flower embellishments here were hand-cut (the color of them has been very distorted by the scan), and I drew the flourishes free-hand before stitching them with a back stitch. The rub-ons here are Reminisce Cocktail Script.

Enchanted Autumn

"Happy Fall, Y'all!"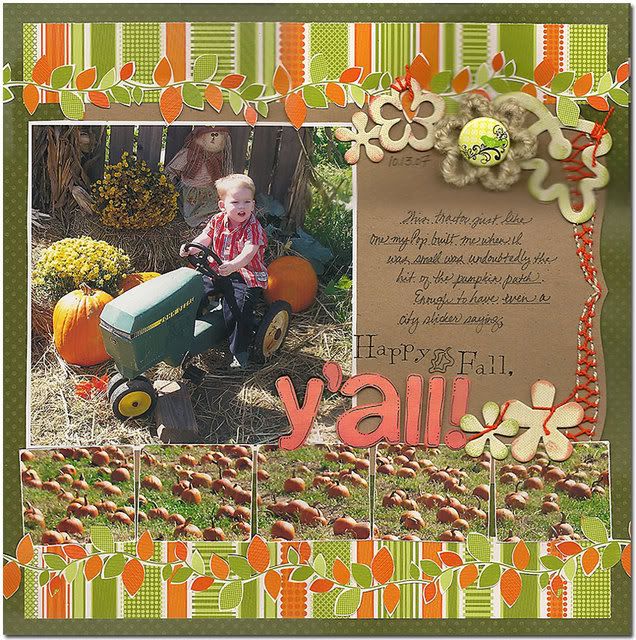 Project Notes: Another page showcasing a cool stitch I learned in the FS sewing class. The pumpkin photos are a panorama shot that I cut into individual tiles. I find that seasonal photos are often perfect as a sort of patterned paper in their own right! The rub-ons here are Reminisce Pink Flamingo.


Girly Girl


"Life is Sweet"
Project Notes: This paper is absolutely amazing with its lustrous sheen, and I really wanted to showcase the cute candy on one side while also using the confetti pattern on the reverse. The perfect solution was to cut the candy out to use on their own! I played a little with the photos here by tinting the square photos a shade of pink, and I love the playful effect that technique lends to the overall page. The rub-ons here are once again the Reminisce Cocktail Script.


Monkey Business
"Bananarama"
Project Notes: I covered some chipboard flowers here with the coordinating patterned papers, which is such a fun technique. This page was a study in complementary colors, as I chose the purple card stock and embellishments to really make the yellow patterned paper pop!


First Birthday Invitation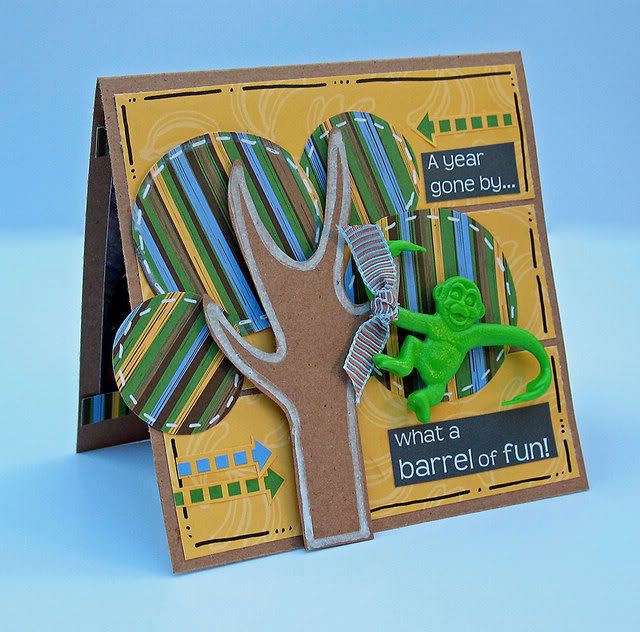 Project Notes: This invite is very similar to the one I sent out for Jack's first birthday. I gave out the Barrel of Monkeys game as favors for the children who attended. It was a hit!




French Kitchen
Decorative Block Set
Project Notes: The moment I saw this new line, I knew the blocked rooster paper would be perfect for a block set like this one. I once again found myself wielding my drill for this project in order to adhere the metal embellishments to the blocks. Flexing my crafting muscles! I found the raw wooden blocks in the craft section at Hobby Lobby.
As always, these and many of my other projects can also be viewed in my Scrapbook.com gallery.