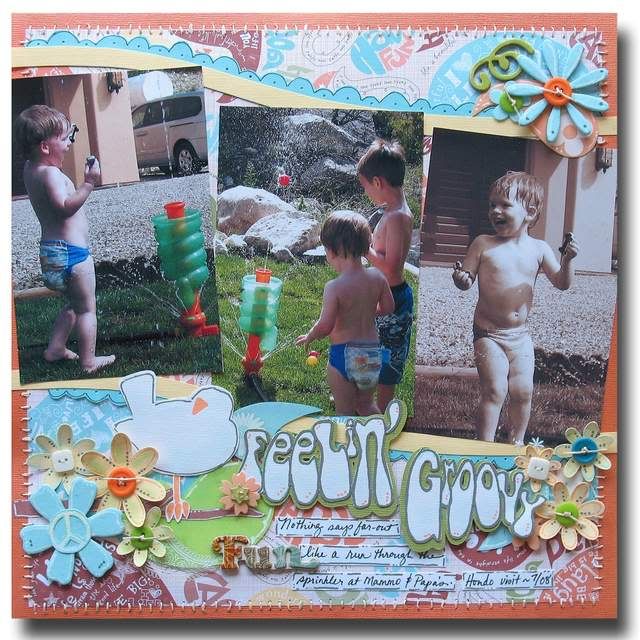 There are some pages that I finish and I think, "Eh,
that'll
do." I will be honest. I finished this page today, and it is not in that category. I
luuuuuu
-
ove
it. :) These photos were taken of Jack and my nephew Blake during our recent trip to my parents' house in NM. Scrapbooks, Etc. magazine is holding a little summer scrapping tournament of sorts, and I entered this page for this week's challenge based on the sketch they provided. Fingers crossed!
The highlight of this page, which I absolutely must share. IF YOU OWN A
CRICUT
, YOU MUST BUY THE SURE CUTS A LOT SOFTWARE!!! Like, right now! I did the title work here with my bug, and dear ME. I cannot believe how much flexibility there is in being able to get on the
internet
, choose a font I like and cut it out. No new cartridges (or $60 tabs!) required. My
Cricut
had been relegated to the back of my scrapping closet for the last few months, just because I had grown so tired of the projects I used it for being so immediately recognizable in their
Cricut
-
ness
, but no more! I really think this will be a huge money saver in the long run. And with shipping I only paid $50 for the program! Let me know, and I'll link anyone interested to the place I found it online.
The paper here is Chatterbox, which is quickly moving to the top of my list of favorite manufacturers. The feel of the paper is fabulous! So fun to work with. I had lots of fun
hand cutting
some groovy
embellies
here. Recognize the little bird on the left from the Woodstock posters? :) I pulled out my chalks to give a sort of
variegated
tie-dye look to some of the elements on the page, although the soft colors don't show up very well here.
Thanks so much for popping on and sharing in my
scrappiness
. :)