I am still absolutely giddy over my
Sure Cuts A Lot
program. I think my Cricut is going to go into shock for so much use after so many months of neglect! Both of these layouts were done for challenges at
Feeling Scrappy
this month (I'm already ready and raring for the next round of challenges set to start tomorrow!), and both incorporated elements I cut with my Cricut using my SCAL software. There is
such freedom
in being able to get online and find just the right font for a particular project!
For this first page, I researched the font used in that "Got Milk?" campaign and downloaded it (free!) off the web. It is called CGPhenixAmerican. (Not sure why they left the "o" out of Phoenix, but oh well. ;)
The photo in this second page is one of my absolute favorites, and it is hysterical how wonderful it looks here considering how much I had to put my
Photoshop Elements
software to good use to make it presentable! In the original, Jack's feet are in the foreground, the color is off, and there are some very distracting things going on in the background. With the magic of Photoshop, all of that is remedied! I have really been focusing lately on trying to get the most for my money when it comes to the range of possibility with Elements, and I am discovering there are some incredible options available on the web in the way of tutorials and how-to's. If ever I have a question about how to do something with the program, Google is my new best friend. And I am finding the more I work with it, the more that comes back from my time using the full version of Photoshop while I was getting my degree.
(The letter C here I actually cute from Grungeboard using my SCAL setup. The font is called Pharmacy. The rest of the word "cheery" is from the same font. I absolutely love this one!)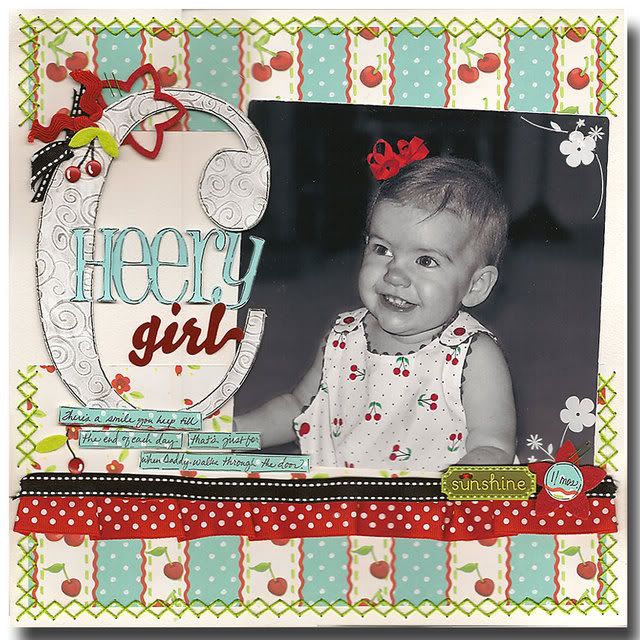 And the original photo. I told you the difference was something! (This, incidentally, is the very smile Miss Charlotte saves for her daddy when he gets home from work every evening. He's a goner. ;)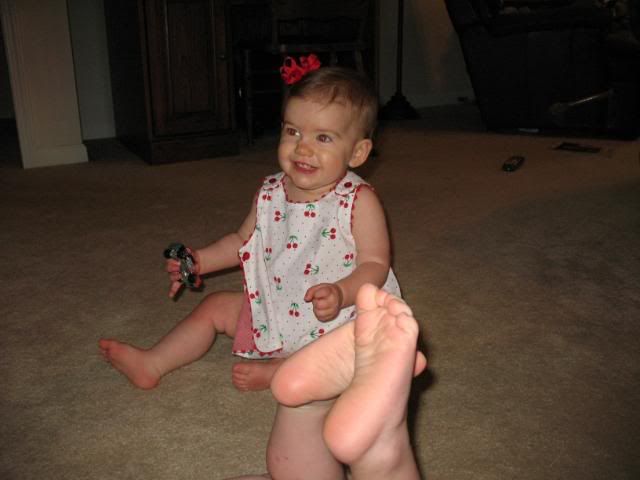 Thanks for stopping by to take a peek at my creations!