For me, the winter blahs usually set in just after the new year, when the festivities have all come and gone and I know there are still months left of cold weather, even though I'm already itching for shorts and flip-flops. (The southern girl in me would prefer spring weather to start on December 26!!) Although winter is just really getting started, I figure there is no better way to boost spirits than to offer a little RAK in the form of some scrappy goodies with a yummy spring color palate! Up for grabs here is the fabulous Tinkering Ink Botanical Bliss line. And when I say
line
, I mean the entire collection: 12 double-sided papers, one sheet of tabs and tags, alphabets and monograms, a package of finery and a package of transfers. This is a LOT of great stuff!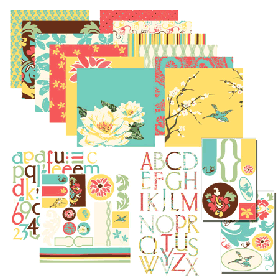 To be entered into the random drawing to win the RAK, simply leave a comment telling me your favorite season. That's it! The deadline to submit your comments is 11:59 p.m. this coming Monday, January 5.
And just because I'm feeling festive, here is a little twist: For every person who comments and mentions you by name as the one who referred him or her to All The Trimmings, you will receive one additional entry in the drawing! So start spreadin' the news. And good luck!!
Amy