Until this month's Book of Me challenge over at Feeling Scrappy, I had never done a page like this one before: something totally about ME. So it is a bit of a funny feeling I have as I post this, fearing that everyone probably will think I'm a raging narcissist. ;) The journaling here was highly entertaining to come up with, since it focuses on something I have more than my fair share of: QUIRKS!! This project was well timed, since it came about right at my 27th birthday. It will be fun to look back on in a few years to see who I "was" at this point in time!
This is another page where I let Elements do a lot of the work for me. I journaled and did a portion of the title work directly onto the photo using the program. For the embellies, I used a combo of ready-made 3D stickers and hand-cut flowers from some patterned paper I just bought during our recent trip to Roswell (thanks, Aunt Jo, for the birthday money!). I mounted a few of the cut-outs to the page using pop dots for added interest. On the title lettering, I heat embossed the top and bottom edges of the letters.
Journaling:
I am a foodie with a soft spot for fast food
I am an outstanding conversationalist in my sleep
I am a stickler when it comes to a clean kitchen
I am a slacker when it comes to a clean car
I am the type to research every purchase
I am an unabashed grammar snob
I am horrible at being idle
I am lost without a list
I am a mother
I am a wife
I am...
Remarkable.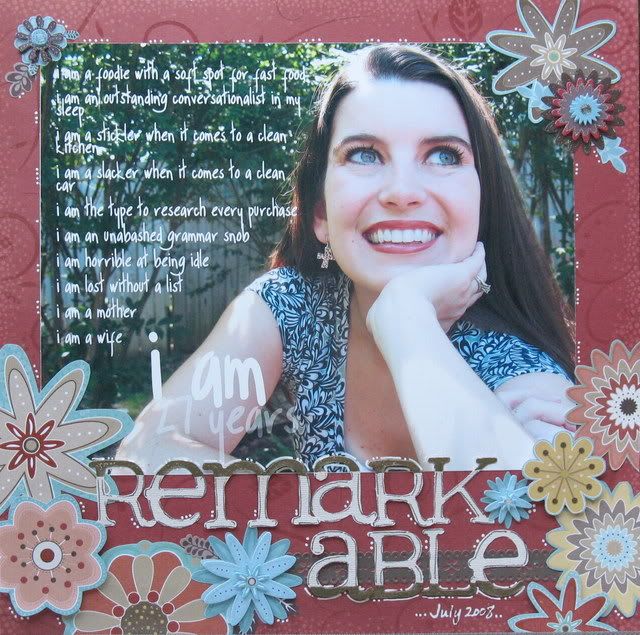 Thanks, as always, for taking the time to look at my work!